An extraordinary
new place to live
KNIGHTS PARK BRINGS SUSTAINABLE LIVING TO BEAUTIFULLY CRAFTED HOMES, AND A WELCOMING, INCLUSIVE LIFESTYLE TO ALL MEMBERS OF THE COMMUNITY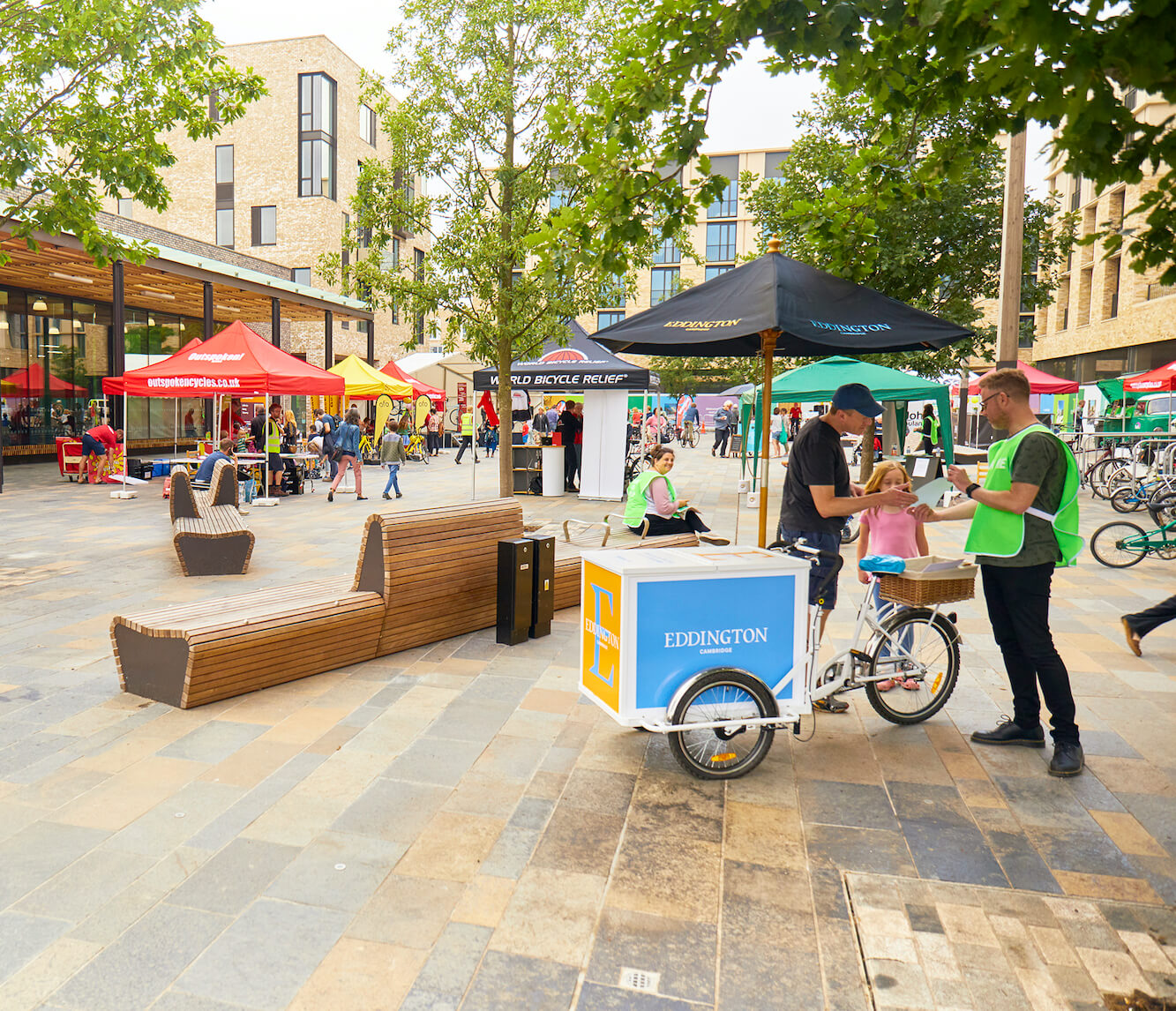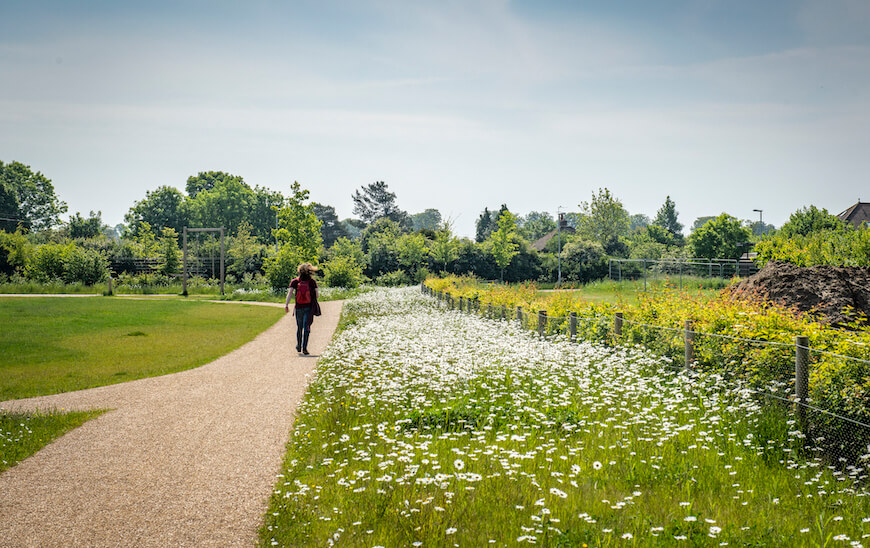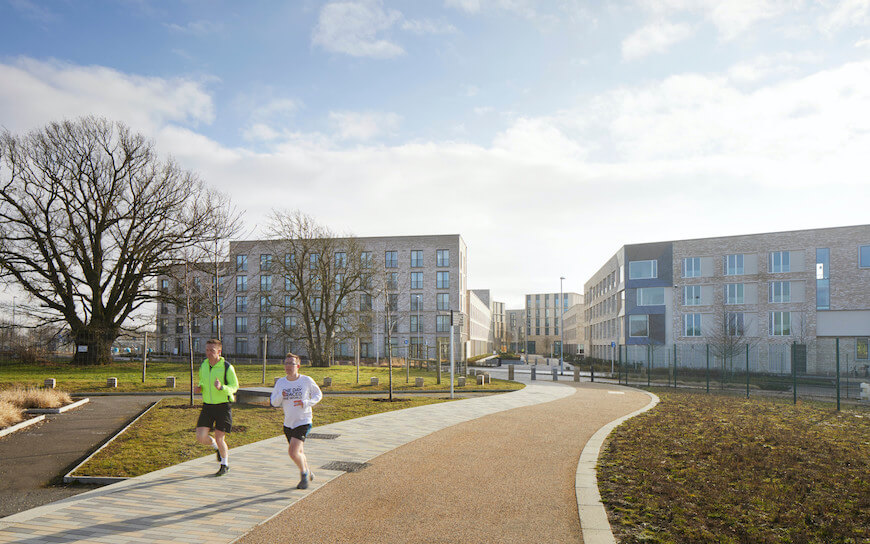 Knights Park is set within the thriving new community of Eddington, bringing you all the benefits of village life along with a highly convenient location situated just 1.9 miles from Cambridge city centre.
With a wide range of characterful homes, from airy apartments to large villas, Knights Park is designed for all stages of life and offers a balanced, healthy lifestyle to everyone. There are sports facilities and open green spaces on your doorstep, along with a market square, hotel, shops, nursery and school.
Sustainable living for
today and tomorrow
EDDINGTON ITSELF HAS BEEN CAREFULLY PLANNED TO ENABLE YOU TO MINIMISE YOUR ENVIRONMENTAL IMPACT.
Safe pedestrian and cycle routes and an excellent public transport network enable you to travel around more sustainably, while green infrastructure and energy efficiency support the eco features of the homes.
A central energy centre provides heating and hot water direct to every home, while a sustainable urban drainage system sees rainwater collected, stored and filtered, before being pumped back to homes where it is used for washing machines and flushing toilets.
The natural landscape has also been carefully considered at Eddington, incorporating wetlands, meadows and planting schemes to create a rich and sustainable environment. Together with walking routes and cycle paths that take you around the site and into Cambridge's historic centre, all these features will help you to live more sustainably at Eddington.
Smart Design to protect
the environment
AT KNIGHTS PARK, SUSTAINABILITY IS NOT JUST AN ADD-ON. IT IS ONE OF THE ESSENTIAL PRINCIPLES ON WHICH OUR HOMES ARE BUILT.
Homes are designed to be highly energy efficient with eco-friendly features, which not only benefit the environment but also make them more comfortable for you to live in and cheaper to run. To meet the Code for Sustainable Homes Level 5, the properties have been developed to reduce their energy and carbon dioxide emissions by at least 85% from 2010 levels. At Knights Park, you can enjoy a beautifully designed modern home that is environmentally responsible, without compromising on comfort or style.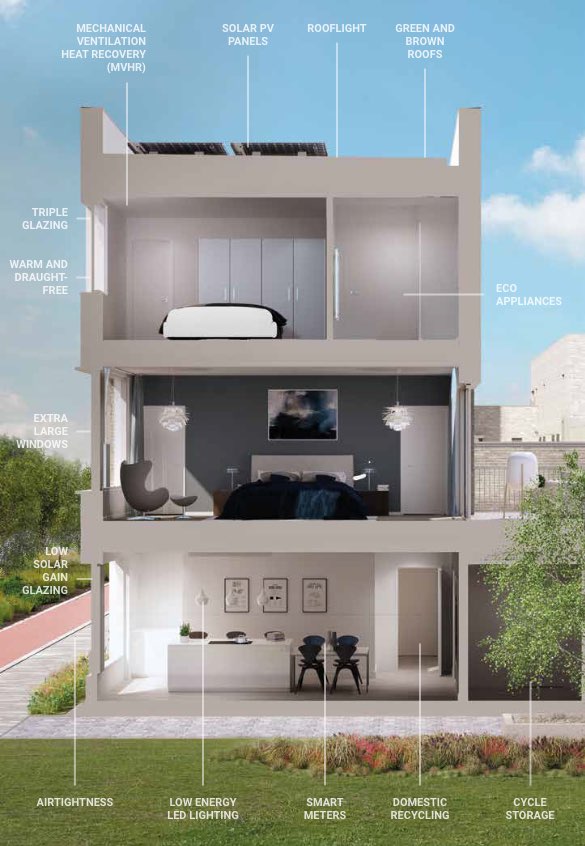 Features
Low Solar Gain Glazing

Whilst lovely to have, large windows can make rooms hot. The glazing used in many of the windows at Knights Park helps to eradicate solar gain so the rooms don't get too hot in the summer.

Rooflight*

Rooflights installed in the roofs provide an extra source of daylight all year round, as well as a simple way of letting warm air escape during the height of summer.
*Only on selected properties

Extra Large Windows

The large windows used throughout Knights Park let in plenty of natural light, reducing the need of switching the lights on. Aluminium composite windows are also highly durable and low maintenance.

Smart Meters

Smart meters are provided so you can keep an eye on your electrical consumption.

Triple Glazing

Many of the windows are triple-glazed and incorporate special coatings that reflect heat back into the building. It means you lose about 80% less heat than single glazing and 50% less than typical double glazing. As a result you can sit or sleep very close to the window without feeling cold, as well as it offering excellent sound proofing.

Eco Appliances

Energy efficient kitchen appliances, aerated showerheads and taps help keep electricity and water consumption low.

Domestic Recycling

Kitchens have an integrated bin which are separated into sections for domestic recycling. Composting bins will also be provided to some houses.

Cycle Store

All homes have a secure parking place for bikes – one for every person.

Airtightness

All joining elements of the buildings are virtually sealed, and common air leakage problems, like letterboxes, have been solved through design. On most new build developments of more than 40 homes, only 5% of the properties would be tested for airtightness – at Knights Park, every home will be thoroughly tested.

Warm and Draught-Free

High levels of insulation and triple glazing keep homes warm and the heating turned down.
Find a Home
Planned for sustainable
modern living
Connections
KNIGHTS PARK'S LOCATION IS IDEAL: CLOSE TO THE CITY WITH EASY ACCESS TO MAIN ROADS, YET ALSO SURROUNDED BY OPEN COUNTRYSIDE.
Green transport infrastructure has been designed to help you travel more sustainably. Cycling and pedestrian routes weave their way through Knights Park and across Eddington, with cycle lanes taking you into Cambridge city centre too. There's also a comprehensive bus service, with routes into and around Cambridge, for more car-free travel. There are fast trains to central London from Cambridge Railway Station, so you can reach the capital in less than an hour. Heading north, there are also direct services to Peterborough and Norwich, and for international travel, Stansted Airport is just a 30 minute train journey.
On foot from Knights Park
4

minutes

5

minutes

5

minutes

6

minutes

6

minutes

6

minutes
University of Cambridge Primary School

Storey's Field Centre

Sports Pitches

Market Square and Shops

Brook Leys Lakes

Children's Playground
By Bike from Knight Park
12

minutes

13

minutes

18

minutes

21

minutes

23

minutes

23

minutes
Cambridge City Centre

River Cam

Cambridge Railway Station

Cambridge Business Park

Cambridge North Railway Station

Cambridge Science Park
By Bus from Eddington Market Square
4

minutes

9

minutes

12

minutes

19

minutes

22

minutes

26

minutes
Veterinary School

Playing Field

University Library

Botanic Gardens

The Busway Railway Station

Addenbrooke's Hospital
By Car from Knights Park
4

minutes

8

minutes

15

minutes

18

minutes

42

minutes

46

minutes
Junction 13, M11 Motorway

Cambridge Business Park

Cambridge Science Park

Cambridge Leisure Park

Bedford

Bury St Edmunds
By Train from Cambridge Rail Station
30

minutes

49

minutes

53

minutes

54

minutes

78

minutes

97

minutes
Stanstead Airport

Peterborough

London King's Cross

King's Lynn

Norwich

London Liverpool St
Travel times are approximate. Source: Google Maps and National Rail.
A New way of life
Cambridge's newest neighbourhood, designed for twenty-first century sustainable living. A vision by the University of Cambridge.
Gallery
Explore the Knights Park development below
Brochure downloads